Kybella
Got fat under your chin? Your jawline not defined? Do you have a double chin?
Want to get rid of it without surgery?
Now you can with a quick injection done in the office.  Minimally painful.  A new alternative to doing liposuction, and able to treat hard to reach pockets coolsculpt can't get.
Kybella is a new product on the market from Allergan to dissolve the fat in the chin area. This is the first and only FDA approved injectable drug that contours and improves the appearance of submental fullness.  It is indicated to make the appearance of bulging in the area under the chin in adults.  It is safe and effective.
What is it good for? 
To help define the jawline
Make the neck look thinner
Improve your profile
Double chin
A more youthful look has been associated with a distinct jaw border and a better open angle under the chin.  Fat in this area happens in women and men.  It is caused by several factors: your weight, genetics, and aging. It is often resistant to diet and exercise.
I have been treating this area for years with liposuction under the chin.  Kybella offers a way to treat this in the office with a quick, minimally painful procedure.  (It takes about 15 minutes to do the injection).  I am pleased with the results.
What you need to know:
You need to have a 15 minute consult prior to make sure you are a good candidate.
It addresses fat.  If you have more fat, you will need more than one treatment.  Most patients need 2 treatments.
If you have skin looseness, this may not be an option for you. (I am surprised though by how the skin does retract with this treatment.  They think this is due to inflammation.)
There is downtime.  The more fat you have, the more you swell.  The swelling is worst with the first treatment.
The ideal way to do this is have the procedure of a Thursday, work from home on Friday, and go back to work Monday.
It is best for ages 20-50.  After age 50, and perhaps before, skin tone is likely an issue.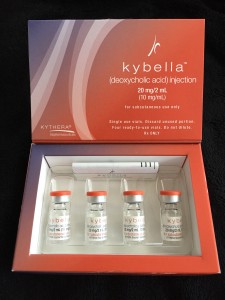 *Individual Results May Vary