skin care products
Two basic skin care lines:
There are many skin care lines out there.  I don't carry most of them because they can't prove to me they work.  I carry these two lines because I believe in them, and I think they address issues of maintaining the skin and reversing damage.  Which line do you need?
IF your skin is
oily, thicker, heavy pigmentation, heavy damage, acne pitted, or darker in color (Indian, Asian, Latina, African American), the OBAGI line is good for you, and read on this page.
IF your skin is
thinner, fair, crepey, sensitive, irritated easily, then the Obagi line may prove too harsh for your skin.  If you aren't using the product it can't help you.  I fall in this category, so I created my line. click here for those  Dr. Lauren Greenberg line
Obagi®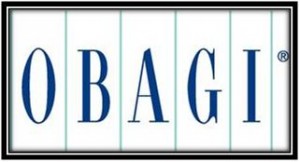 Obagi is a multi-step system to healthier skin. Obagi products are great for normal, thick, pigmented, oily, flaky, or large-pored skin, and for all skin types, including medium and dark skin.
The cleanser and toner help exfoliate, which helps the top layer of your skin turn over frequently. This helps give you fresher, healthier looking skin, and may prevent some break-outs.
The Obagi Nu-Derm® System is a home skin health restoration program incorporating prescription strength products to restore skin's health. It designed eliminates hyperpigmentation and photodamage (sun damage), refines skin texture, normalizes oil production, hydrates skin, and gives a healthy glow. Unlike other products, Nu-Derm® penetrates the dermis and has the ability to correct many skin problems, including those deeper problems peels and exfoliation can't reach.
These products are awesome and very affordable. I will never buy anything else.
– M.F., Redwood City
As you age, your skin loses elasticity. Cell turnover and the flow of moisture from deep within begin to slow. Damage worsens from sun, stress, environment, and smoking. This system corrects surface discoloration. It penetrates the skin to stimulate skin renewal, improve circulation, and rebuild collagen. After six weeks (one skin cycle), new skin cells emerge to the surface
To reverse damage, hydroquinone and Retin-A® are used. Hydroquinone is a "skin bleacher." It works by smoothing out areas of pigment irregularity and age spots. Retin-A® helps reverse sun damage, wrinkling, and age spots. It helps the deeper layer of the skin thicken and reorganize to reverse fine wrinkles. Results are seen after months of use.
I also like the Obagi clear zinc sunblock, and TCA blue peel
For more information on the Obagi® skin care system, go to www.Obagi.com.
I think Obagi® with hydroquinone and Retin-A® is a gold standard for treating fine lines and pigment, BUT many people with fair or sensitive skin cannot tolerate the line.  For those patients, I recommend my line.  It has many antioxidants, anti redness agents, and retinol (in one product) for those who find Retin A is too aggressive.
Read testimonials about our skin care products
*Individual Results May Vary