Dr. Greenberg's line of products
Why do I have a line?
I found the products out there confusing, harsh to my skin, and expensive.  So I worked with a group to have an affordable active skin care line.  People love it.  It is cheaper most other brands because there is no marketing and advertising budget.
Four basic products:
RESURFACE: glycolic acid exfoliating pads. These pads gently exfoliate, moisturize,  and assist in the removal of oils and residue on the skin.  They are convenient and simple to use treatment pads with witch hazel to deliver skin toning and astringent benefits.  If you exfoliate with microdermabrasion you don't need this.  If you are lazy like I am, these pads are super easy to help your skin turnover and help the other products penetrate deeper into the skin.
REPLENISH: moisturizer.  This moisture enriched facial cream contains Vitamins A, C, E, Green Tea and Coenzyme Q-10 to assists in minimizing free radical induce skin damage. This is the BEST.  It flies off the shelf.  It is not expensive, not greasy, doesn't feel heavy, and really moisturizes.
EYE CREAM: Retinol is a gentler form of Retin A.  I love this product.  It also has arnica and Vitmain K to help with dark circles.  Green tea helps fight inflammation and redness.  And other ingredients help with puffiness.  It helps soften the crows feet.  I have tried many products around the eye, and this is one which actually does something.
REVERSE: Retinol product, mixed with Green Tea and caffeine to minimize irritation caused by the retinol.  Retin0l can help achieve smoother firmer and evenly toned skin.  For those who cannot tolerate Retin A, I find this a great starting point.
If you have fair to medium skin, are on the more sensitive side, this may be the line for you.  I have been able to tolerate it well.  If you are buying creams at a department store, don't waste your money.  Medical grade products are only available through doctors and give you more bang for your buck.  And the products are bundled, so you save $ when you buy together.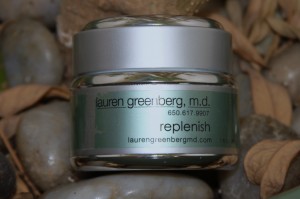 Dr. Greenberg has a personal line of products that not only repair your skin but reverse the damage. These products are awesome and very affordable—I will never buy anything else.
– Patient
Read testimonials about
Dr. Greenberg's line of products
*Individual Results May Vary