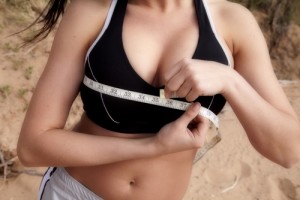 Breast reductions and cup size.
It is a tough thing to counsel on.  I have said many times, I think the biggest issue with large breasts is not the size.  It is the droop.
First, what is your true size?
Don't trust what the lady at Victoria's Secret or Nordstroms measured.  There is no standard to bra sizing.  What is a 34D in one brand is not in another.
Many of you are wearing the wrong cup size (when it fits poorly, you bulge out, etc)
Many of you are wearing the wrong ribcage size (it is hard to find the 32DDD, so you buy a 34 instead.  A surefire way to know you are doing this is when your bra arches up in the midback.)
Much of your volume is from the oragami to fold and lift your droopy skin into the bra.  That is not real breast tissue.
But none of this matters.  When we discuss what size, I need to know simply – are you bigger than you want to be?  I don't care what your cup size is.  I need to know if you want a lift or a reduction.
So if we determine you do want to remove tissue, the question then becomes how much I should take out?
I can't tell you the number of women who come in multiple cup sizes too big, where I end up taking out only 100 – 150 grams (maybe not even a cup size of breast tissue)… How can this be?  The issue was skin and looseness, the pillowy-ness and droop, not actual breast tissue.  I have had to tell women who come in wanting insurance to cover their reduction I won't come close to the 400 grams required.  So how can you figure out how big you really are?
My trick?  Try on a jog bra or minimizer bra.
In my office I will compress your breast tissue, and we will look at it in the mirror.  Anything in your armpit area is axillary fat- it isn't breast tissue- and I will remove it with liposuction at the time of your surgery.  This axillary fat is fat, so insurance will not let me include it in my "total number of grams removed."  But anything we compress in our hands is truly breast tissue.
When I do a reduction, I compress and lift your natural tissue.  It will make you look smaller.  I see this in my breast lift patients.  Breast lift patients don't want to be smaller.  They just want the girls to be firm and north of where they migrated.  But I warn my breast lift patients ahead of time- you may look smaller when I am done. Why is this? I will not remove any of their breast tissue.  So why would they look smaller? Why would their cup size go from a D to a C?   What they see is the effect of reshaping and firming what they had.  In essence, the surgery acts like a jog bra.
So. How small should  you go?
1. Figure out how you feel about your size right now. The best way to get a preview of this is to wear a tight fitting jog bra or compression bra.  It is the closest way I have found for you to see what you truly have.
2. If this is looks big to you, then feel in your armpit area.  This area is just fat.  It will be removed with liposuction at the time of lift and reduction.
3. Focus on the breast itself.  You can cup in your hands what you would want to take away.  This is how I estimate the number of grams I'll remove.
4. Don't focus on a cup size.  When I ask women to estimate the cup size of my patients, they are almost always wrong.  The best way to figure out is to look in the mirror and see "I like this."